The first shipload of LNG arrived at the Skangas LNG terminal in Pori, Finland, on Sunday. To be completed in August, the facility is the first LNG import terminal in Finland.
The terminal is undergoing commissioning, and commercial deliveries to customers will begin in September. LNG will help diversify the Finnish energy market as it enables deliveries to industrial operators outside the gas pipeline network as well as for maritime and heavy-duty road transport. Access to natural gas is an important competitiveness factor for current industrial operators in the area as well as for the Port of Pori.
LNG meets the requirements set by the Sulfur Directive regulating shipping emissions as well as the stricter emission limits to be applied in the future. LNG also enables a switch to liquefied biogas without any additional investments.
The LNG was delivered from North-West Europe on the time chartered LNG carrier Skangas Coral Energy.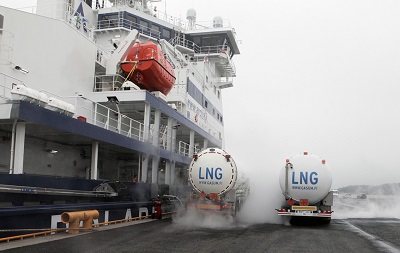 In June, Skangas made the first delivery of LNG to Polaris – the world's first LNG-powered icebreaker. Polaris is a dual-fuel icebreaker using LNG as the primary fuel and diesel as a reserve fuel. The icebreaker was bunkered from two LNG road tankers at Helsinki's Vuosaari Harbour before her first sea trial on LNG.
Skangas is developing a ship-to-ship bunkering solution designed to meet growing demand from the maritime sector of companies that operate in the small-scale LNG business. Working with Skangas, Statoil and Tarbit Shipping participated with the product tanker Bit Viking in the ship-to-ship bunkering development project in Risavika, Norway, last year. Risk assessments and coordination of procedures were created in cooperation with DNV GL, the Fire Service Department, the Norwegian Maritime Authority, the Norwegian Directorate for Civil Protection and Risavika LNG Production, among others.
By MarEx