In its latest weekly review of trends in petroleum, the U.S. Energy Information Agency examined how the new Panama Canal expansion will affect crude and product supplies on the North American market – and forecasts that it will have little impact.
«Because of the economics of shipping, trade patterns, and the types of ships used to transport crude and petroleum products, this latest expansion is expected to have a limited effect on most petroleum markets," EIA said in a statement Wednesday.
VLCCs and ULCCs, the largest oil tankers, are too large for the new locks, and the economics of crude oil shipments favor larger vessels. Product tankers are a different class altogether in terms of their principal dimensions, and many can transit the existing locks or the new locks (depending on the specifics of their beam and their draft).
The general pattern of Panama Canal petroleum product shipments last year was from the Atlantic side of the locks towards the Pacific, southbound, primarily diesel and gasoline in a combined volume of about 19 million metric tons per year. Many of these shipments likely originate with U.S. Gulf Coast refineries, which have recently boosted their export sales to the west coast of South America; as growth in these markets slows, refined product demand and imports could slip, EIA warns.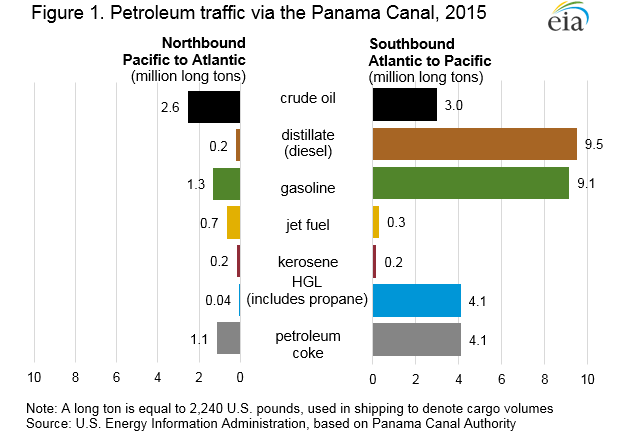 Crude oil shipments through the canal were much smaller in volume and about equally split between northbound and southbound cargoes, of a combined amount of roughly six million metric tons.
Gas liquids could see a boost, however. At present it is not possible for very large gas carriers – vessels carrying propane or other natural gas liquids – to transit the canal, resulting in the time-consuming requirement to conduct ship-to-ship transfers between large carriers and smaller vessels capable of making the trip through the locks. The new, expanded locks will be able to accommodate most VLGCs, giving U.S. East Coast and U.S. Gulf Coast suppliers greater access to the Pacific basin gas liquids market.
By MarEx