http://www.youtube.com/embed/jLagKdehRJQ?autoplay=1&wmode=transparent&autohide=1&showinfo=0&rel=0
Early Sunday morning on 26 June, the inaugural transit of the Panama Canal Expansion began with the transit of Neopanamax vessel COSCO Shipping Panama through the new Atlantic-facing Agua Clara Locks.
Originally named Andronikos, the vessel was renamed to honor and pay respect to the country of Panama and the Canal.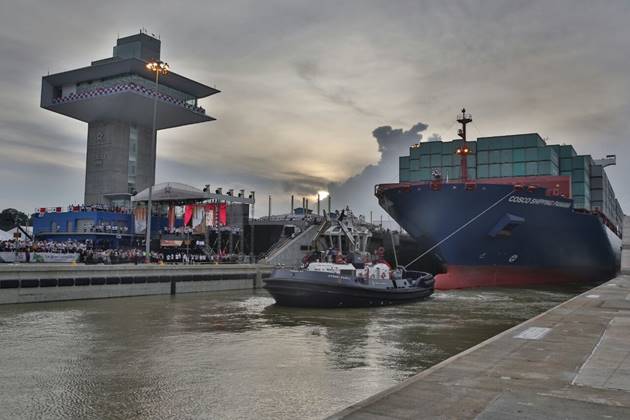 COSCO Shipping Panama set sail June 11 from the Greek Port of Piraeus carrying 9,472 TEUs and measuring 299.98 meters in length and 48.25 meters in beam. Later this afternoon, the vessel will reach the Pacific-facing Cocoli Locks where the official Inauguration ceremony will take place.
The Expansion Program is the Canal's largest enhancement project. It included the construction of a new set of locks on the Atlantic and Pacific side of the waterway and the excavation of more than 150 million cubic meters of material, creating a second lane of traffic and doubling the cargo capacity of the waterway. While the Expanded locks are 70 feet wider and 18 feet deeper than those in the original Canal, they use less water due to water-savings basins that recycle 60 percent of the water used per transit.
The expansion doubles the waterway's cargo capacity and allows new Neopanamax (formerly called post-Panamax) vessels to transit. These vessels have a cargo capacity of 13,000 to 14,000 TEUs. The Panamax vessels that currently transit the Canal have a maximum capacity of approximately 4,000 TEUs.
For more than 100 years the Panama Canal has served global commerce by connecting more than 144 trade routes around the world. The $5.25 billion Expanded Panama Canal will redefine the maritime industry.
Considered and analyzed for a decade with more than 100 studies, the Expansion will provide greater economies of scale to global commerce. It will introduce new routes, liner services and segments (such as LNG).
Commercial operations will begin with the transit of NYK's LPG tanker Lycaste Peace.
So far, 170 ships have signed up to use the canal in the next three months. If the industry perks up, the Panama Canal Authority already has a $17 billion plan for a fourth set of locks to lure even bigger ships that can now only travel through the Suez Canal.
By MarEx